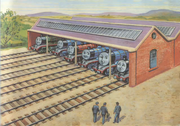 98462 and 87546
are two blue tender engines like
Gordon
, who visited the railway in 1922.
Background
Edit
When the Reverend W. Awdry received correspondence asking about the other two engines in the shed - the other four being Edward, Henry, Gordon and The Red Engine - he replied that they were sent to the railway on trial, but were sent away for being rude and nasty. It is unknown what happened to them since the decline of the steam, but they were most likely scrapped.
98462 and 87546 are rude, spiteful, impolite, and nasty.
It is unknown what type of engine 98462 and 87546 really are. 98462 looks like a cross between Edward and Gordon with a 4-6-0 wheel arrangement, no outside cylinders or motion, Stephenson valve gear and oval buffers; 87546 looks a cross between Gordon and Henry in his old shape with a 4-6-0 wheel arrangement, two-cylinder motion, Walschaerts valve gear and round buffers. Some have theorised that 98462 is an LNER B12 and 87546 is an LNER B17.
98462 and 87546 are painted blue with red and yellow lining.
Appearances
Edit