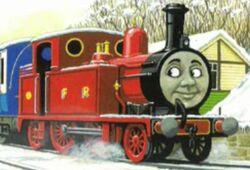 Albert
Class: Furness Railway Parker J1 2-4-2T
Designer: Pettigrew
Builder: Sharp, Stewart and Co.
Configuration: 2-4-2
Albert is a red tank engine who worked on the Furness Railway. He worked on the lakeside branch on the Furness Railway with Victoria and Helena. After snow fell on him as he set off with Victoria and Helena from Haverthwaite, he learnt to take more care in wintry conditions.
Albert's character appears to be like that of Thomas - Victoria described him as being gentlemanly and polite. He has a slight tendency to be boastful and cocky.
Albert is painted in the Furness Railway's red livery with "FR" written in yellow on his sides.
Albert is based on the Parker J1 2-4-2 class, rebuilt from the earlier E1 class of 2-4-0 tank engines of 1870, which were built originally by Sharp, Stewart and Co. Seven of these were rebuilt into J1s in 1891. None have been preserved.
Appearance
Edit