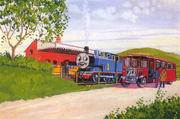 Bertie is a red bus who works near
Thomas' Branch Line
.
Bio In The Railway Series
Edit
Tank Engine Thomas Again
Edit
After Thomas stuck in a snowdrift, Bertie came to rescue Thomas' passengers. He later raced Thomas after claiming he was the faster of the two, but lost after having to stop at a traffic light.
Edward The Blue Engine
Edit
Bertie tried to catch up with Edward, while carrying Thomas' passengers.
More About Thomas The Tank Engine
Edit
Bertie teased Thomas about being slow, but had to eat his words after breaking down.
Thomas and Victoria
Edit
Bertie was mentioned as being unable to help Toby and Henrietta with carrying the quarry workers.
Thomas and his Friends
Edit
Bertie was mentioned to have helped pick up visitors who wanted to see the bust of the Thin Clergyman unveiled after the partial collapse of Henry's Tunnel.
Bertie is friendly and ready to help anyone in need, but can't resist teasing Thomas about being slow.
Bertie is painted in the common red livery of buses in the United Kingdom, mostly famously used by London Transport. His license number, "CRD54", refers to the fact his license plate was first seen in Edward the Blue Engine, published in 1954 and illustrated by C. Reginald Dalby.
Appearances
Edit