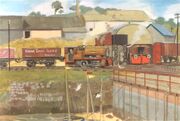 Brendam is a town with a population of 5,000. It is the top station for Edward's Branch Line and an important harbour. Bill and Ben bring china clay from the nearby China Clay Workings, and it is shipped to the mainland.
The Sodor China Clay Company, established in 1948, occasionally hosts days when enthusiasts may look around. Bill and Ben particularly enjoy the attention these visitors give them.
The Sodor Shipping Company has at least one large warehouse here.
Brendam was inspired by Par, Cornwall, England.