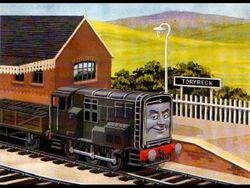 Diesel
Class: BR Class 08
Designer: British Railways
Builder: BR Works of Crewe, Darlington, Derby, Doncaster, and Horwich
Configuration: 0-6-0
Speed: 15-20 mph
Arrived on Sodor: June 1957
Diesel is a devious diesel angine and was the first diesel engine to arrive on the Island of Sodor.
Duck and the Diesel Engine
Edit
He visited on a trial from The Other Railway in Duck and the Diesel Engine (vol 13 in The Railway Series) When Diesel came on trial to the North Western Railway, Duck was asked to show him around. Duck was unimpressed by Diesel's claims of being "revolutionary" and left him to his own devices. As a result, Diesel was made into a laughing stock by the trucks for trying to pull some rusty old trucks and failing spectacularly, and Diesel blamed Duck for not helping him. Diesel swore a vendetta, and spread rumors that Duck had given the big engines rude nicknames. Duck was sent to Wellsworth pending an inquiry into the matter, but Diesel got too big for his boots and tried telling lies about Henry. He was found out and sent home in disgrace.
The Little Old Engine
Edit
In The Little Old Engine, he was mentioned once by James who told Duncan that he sent him packing.
Thomas and the Evil Diesel
Edit
Several years later, in the one-off story Thomas and the Evil Diesel, Diesel was brought back to help on Thomas' Branch Line whilst Percy was being repaired. Diesel tried to win Thomas and Toby over, without success, and after he destroyed several trucks he was to be sent away. However, on his day of departure, Clarabel slipped on oily rails left by Daisy and came off at some points near Dryaw. Diesel, realising that Thomas was blocking his only way home, went to the rescue. Clarabel put in a good word for Diesel, and Diesel, although he returned to the Other Railway, is always welcome on Sodor.
Personality
Edit
Diesel is always up to mischief. He is devious and always causing trouble. However, when he returned, he revealed that he also had a good side by helping Thomas and Clarabel out of a mess.
Diesel is based on a BR Class 08 0-6-0. Over seventy members of this class survive today in preservation. They were in fact the most successful shunting engines in the world, with 996 of them built.
Diesel is painted in the black livery used by British Railways for shunting engines in the 1950s.
Appearances
Edit
Railway Series
Edit
Duck and the Diesel Engine
The Little Old Engine (mentioned)
Thomas and the Evil Diesel