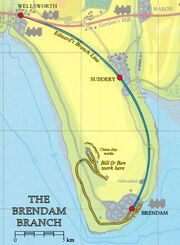 Edward runs a branch line running from Wellsworth along a peninsula to Brendam. BoCo and occasionally Donald and Douglas assist in running the line. Thomas also once staffed the line while a bridge on his branch line was being repaired.
The bigger engines are forbidden to travel along the line due to the weaker construction, however Gordon was once switched onto the branchline with the express by accident.
History and operations
Edit
The branch, originally part of the Wellsworth and Suddery Railway, opened in 1870. The eastern end became a branchline after the North Western Railway opened in 1915.
There is extensive china clay traffic from Brendam. There are peak "through" trains to and from Tidmouth, at other times there is a local service from Wellsworth to Brendam.
From Wellsworth, which includes a station yard and junction to the branch, trains travel to Suddery, and finally terminate at Brendam, where an extensive harbour and engine sheds are located. There is a private quarry line to the China Clay Works, serviced by Bill and Ben.
Appearances
Edit
Edward's branch line has appeared in several Railway Series books: