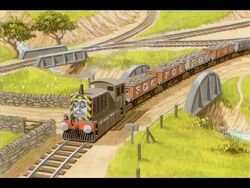 Mavis
Number: FQC 1
Class: BR Class 04
Designer: Drewry Car Co.
Builder: Drewry Car Co.
Configuration: 0-6-0
Arrived on Sodor: 1962
Mavis is an 0-6-0 diesel-mechanical shunting engine. She belongs to the Ffarquhar Quarry Co. rather than the Fat Controller, and works mainly shunting stone trucks in their quarry. She sometimes brings Toby's trucks down the line when he is busy. She is painted black, with yellow-and-black "hazard" stripes on her radiator and cab back. Mavis is based on a BR Class 04, some of which were fitted with the sideplates and cow-catcher for use on the Wisbech and Upwell Tramway, the same line that Toby came from. She was built and arrived on Sodor in 1962.
Tramway Engines
Edit
When she was young she was convinced that she knew it all and that Toby with his worn-in rules and methods was a "fusspot", but discovered that sometimes there is nothing wrong with taking advice - ignoring Toby's advice on truck-management-skills brought Mavis to a literal standstill at a level crossing near Ffarquhar where iced rails allowed the trucks to turn the tables on her. To Mavis' indignation rescue came in the form of 'fusspot' Toby. The two became friends however when she rescued him from a collapsing bridge. She is now allowed to come down the line from time to time, and is a useful addition to the branch line.
James and the Diesel Engines
Edit
She is mentioned once in "Fire Engine" by James who talks to Henry about fire engines who disappear into the background.
Toby, Trucks and Trouble
Edit
Mavis enjoys taking a loaded train of stone trucks down to Ffarquhar until one day she had an accident with a lorry, and Toby had to do her work while she was at the Works.
Thomas Comes Home
Edit
Mavis was one of the engines that took over Thomas's work when he was away at York.
Thomas and the Fat Controller's Engines
Edit
Mavis also attended the 50th anniversary of the Railway Series ceremony of The Royal Personage.
Other Appearances
Edit
She first appeared in the book Tramway Engines She was named after Rev W Awdry's neighbour in Rodborough, Stroud.
Appearances
Edit
Railway Series
Edit
Tramway Engines
James and the Diesel Engines (mentioned)
Toby, Trucks and Trouble
Thomas Comes Home (does not speak)
Thomas and the Fat Controller's Engines (does not speak)