Philippa
(or
Pip
for short) and
Emma
make up an InterCity 125 High-Speed Diesel in
The Railway Series
. They have had problems with their cooling system and came to the railway when Gordon was on a journey. They soon made friends with all the engines.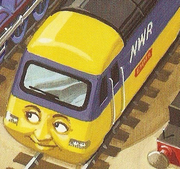 They have had three appearances, one in Gordon the High-Speed Engine, and two others as main characters in Thomas and the Fat Controller's Engines and Thomas and His Friends. Following Privatisation, the Fat Controller has decided to purchase them in order to run a faster service to London.
Pip and Emma are based on the British Rail Class 43 HST and are painted in the original InterCity 125 livery of yellow and blue. After being purchased by the Fat Controller, the words "InterCity 125" and the BR Logo which were painted on their sides were replaced by "NWR" and have red nameplates with yellow writing.
Pip and Emma are also the names of two siblings characters in the Agatha Christie novel A Murder is Announced. The phrase pip emma was also used in the signalese developed by the British Army signallers in the First World War to mean post meridiem, or p.m.