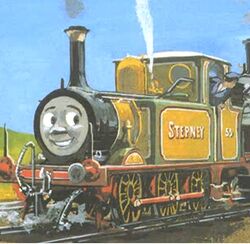 Stepney
Number: 55
Build date: 1875, rebuilt in 1912
Builder: Brighton Works
Designer: William Stroudley
Configuration: 0-6-0T
Stepney is a London, Brighton and South Coast Railway A1 Class 'Terrier' 0-6-0T tank locomotive. He appears in Stepney the "Bluebell" Engine (vol 18 of the Railway Series) on a visit from the Bluebell Railway.
In 1963, Stepney came on loan to Sodor and worked briefly with Duck at Tidmouth before working on Thomas' Branch Line. At first, Thomas was jealous, and was even more furious when he had just left with his last train when he is stopped so Stepney, with a V.I.P. in tow, can pass. But when Stepney explains the next morning and flatters Thomas by complimenting his knowledge of branchline life, Thomas is happier and started talking about his branchline.
Later on, Percy took pity on Stepney when he reveals he misses trucks and offers to share his train with him. Stepney later passes the Elsbridge cricket field when a batsmen hits a six and the ball lands in a truck. Stepney doesn't hear the cricketers shout, so four pile into an old car named Caroline and race after them. At Ffarquhar, they get the ball, and, as Caroline is exhausted, Stepney takes them back on a flatbed and stays to watch the match.
Towards the end of his stay he returned to Tidmouth, and on his last day double-headed the Express with Duck after the Diesel failed.
Stepney is named after the area of London (Stepney). Many of the Terrier locomotives were named after similar areas. Stepney is painted in the attractive yellow ochre locomotive livery of the LB&SCR, perversely called Stroudley's Improved Engine Green. Following adventures with a 'Special' (train) and a cricket match, Stepney is asked to help Duck pull diesel D4711's train, after the diesel has inhaled the Inspector's bowler hat. It is at the beginning of this journey that Stepney gives Duck his advice about using sand to get a good start, referred to in later books in the series: "...as they backed down, they dropped sand on the rails, rolling it firm with their wheels."