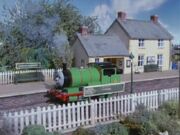 Suddery
is a small town (claiming to be a city, having once been the seat of the Bishop of
Sodor
) and the capital of Sodor. Its motto is "Luoc Sodoris Lux", or, translated from Latin, "Luoc, the Light of Sodor".
Suddery was once a fortified town, with a castle being a late addition. The site was refortified in Napoleonic times, but its appearance has not been spoilt by the new additions, namely several batteries built then.
The suddery station has two platforms before the level crossing ended with the sidings and the goods shelters.
The North Western Railway's main line bypasses the town of Suddery as it climbs Gordon's Hill to the north, but there is a station serving the town on Edward's Branch Line.